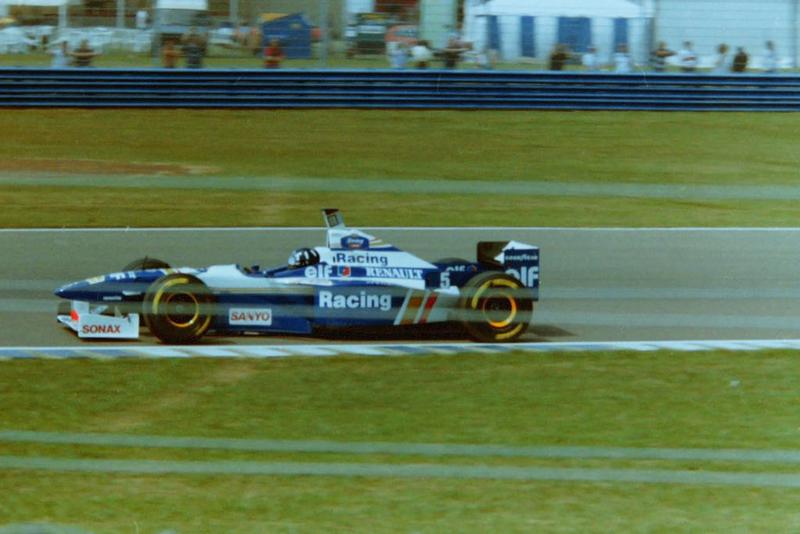 Back in 2012 we cut the first cable by moving to DirecTV away from Charter TV. DirecTV priced excellently but by 2017 the escalator had taken its toll and I was paying almost as much as Charter. The launch of Youtube TV in February of that year with a small bundle of channels one might care about for $35/month convinced us to cut the cord for good. Sadly, Google have started to play the same game as the cable companies, adding channels that we're not interested in while the price ratchets up to a current $65.
As we considered ditching Youtube TV, I kept coming back to the one sport I care about: Formula 1, which I had been watching via ESPNs rebroadcast of Sky's excellent coverage. Initial reviews of F1 TV had been pretty dismal, but the latest YouTube TV price rise was enough to make it worth a try. So, in August, we cancelled YouTube TV, bought a digital antenna and doubled down on Netflix, Hulu, Prime, Apple TV+ and went all in for a season of F1 TV at $79.99
Every race since late August I've been watching via F1 TV. Here, then, is the good, bad and fugly of F1 TV
The good
Price
$79.99 is a truly reasonable price for:
a full season of F1 and support races
an archive of historical races
live timing & live content you cannot get elsewhere such as driver onboards and team radios
In a full race season that's easily less than $5/race which compared to other sports (like UFC) is a downright bargain.
The commentary
While the video is basically the F1 world feed, audio, at least in English, is from Sky. If, like me, you've followed Martin Brundle since he started commentating with Murry Walker, it's great to hear him and David Croft commentate the races and difficult to imagine anyone else. Now, to be fair, back when Speed broadcast F1 in the US, commentated remotely by Hobbs, Matchett and Varsha/Diffey, I quickly adapted. For me though, Croft and Brundle are a hard act to beat (although it seems not everyone shares this opinion).
The archive
I had high hopes of re-living my 90s race memories via the archive. And you can, which compared to the Bernie years which seemingly didn't care for the past, is a win. Sadly, it seems a lot of my memories include Murry commentating. The archives I've watched so far aren't Muddy Talker fests but race recaps seemingly narrated by a sleep hypontist.
Multi-screen is a great idea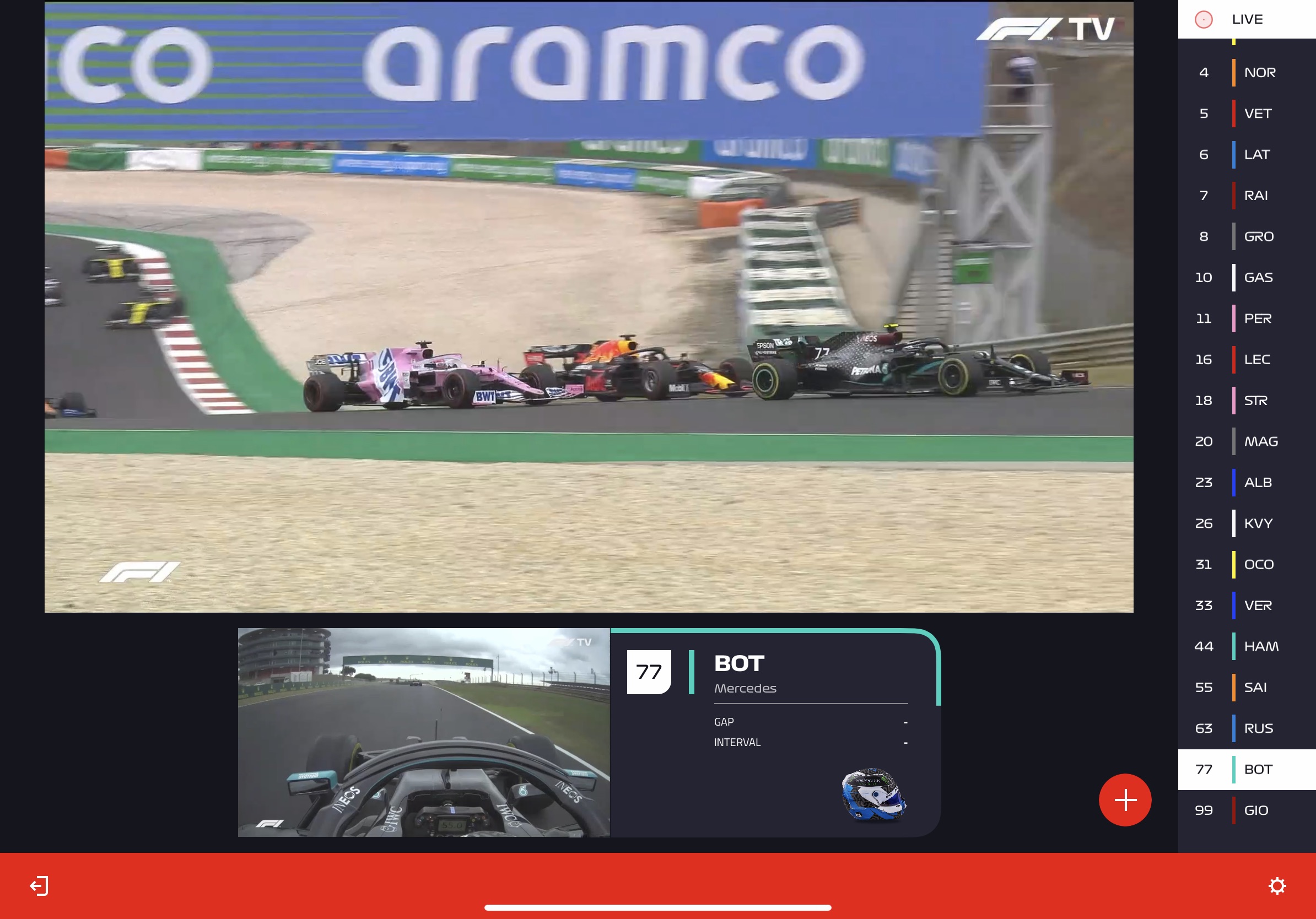 In theory this is a great idea: you can cook up your own presentation, following 'your' driver in one view with world feed in another window and driver tracker in another. At least that's the theory. In practice it's less so as we shall see.
The bad
Multi-screen implementation needs work
Take a look at that screen grab above. The in car shows Bottas (car 77) on the right hand side of the track, before the bridge. The world feed shows him on the left, after the bridge. That's enough lag to make the feature next to worthless. It's not always that bad, but there's no technical reason why it can't be in sync, especially on a high bandwidth connection like mine.
Shoulder content doesn't match Sky
The shoulder content (pre and post race shows) are pretty bare bones. They try and they have some good talent such as Will Buxton, but it's no match to Sky's big budget stuff with ex drivers, access to teams, specials etc.
Can't join a live event in progress from the start
If, like me, you live in the midwest you're used to watching races Sunday morning. On any regular DVR you wake up, make a coffee, avoid social media and start watching the race from the start of the recording with no regard to whether the race has finished.
DVR doesn't care. F1TV does. You can either join the live event midstream or wait for the race replay to be posted hoping you don't stumble across learning who won. Nothing is worse than watching a race you've been looking forward to when you've accidentally found out who won.
There's no technical reason for this, Apple HLS expressly supports this kind of use case with the Event playlist type.
Feels like the 'B' team built the platform
Not being able to start a race that's still live is just one of many examples that make the platform feel like it's still beta. This isn't an Apple product with great user experience built by the 'A' team who really cared about it and sweat the details.
Rather, it feels like it feels like something delivered to a statement of work by a third party where cost and time beat quality. Switching between streams takes too long, multi-screen is a great idea let down by poor implementation. The iOS app could be a technical tour-de-force worthy of Apple design award, a high-tech product for a high-tech sport. It's not.
Audio follows Sky content, not world feed
If you're familiar with Sky's content, you'll know they often cut to their own feed: be it Anthony on the SkyPad, Simon on the anchor stage or Rachel in the paddock. Trouble is, F1 TV doesn't have seem to have access to that. So they stick with the world feed while the audio follows Sky. That results in some real confusing coverage, especially during qualifying: this weekend after Q1 Karun Chandhok was narrating a replay while the live feed was replaying Räikkönen's radio.
There's two simple solutions: build your own commentary team or do a deal with the over-the-air rights holders to rebroadcast their product. The first takes significant money, the second probably tramples on all sorts of existing licensing deals. So, for now, F1 TV is stuck in a never-never land.
The ugly
Big screen support
Getting F1 TV onto your TV is an exercise in frustration. An Apple TV app was apparently in the works at some point but rumors are that it was killed to keep over-the-air rights holders happy. The iOS app doesn't support Airplay, but if you watch in Safari or Chrome on an iOS device you can then use Airplay. Except sometimes after a random period of time it will fail. As one Redditor quite rightly said: '"F1Laptop" would have been more fitting'.
To conclude
F1 has come alive since Liberty Media took over Bernie's pre Internet, pre social media F1 bubble. For that, they deserve massive kudos. They're active on social media, have ventured into different media (such as the excellent podcast 'Beyond the Grid'. (The recent episode with Chase Carey the CEO of Formula 1 is well worth a listen)). They've taken risks with projects like Drive to Survive which present a more nuanced view of the sport and clearly are doing well: Netflix doesn't renew if they're not getting eyeballs.
In that context, F1 TV is an admirable experiment which I applaud and am willing to subscribe to. It's not without warts and definitely needs some love. For the price, though, is more valuable to me than a bundle of stuff I don't want from the average cable provider clinging on to a sinking business model. I don't envy the team working through the rights issues with the OTA holders, that's for sure.
Would I pay more? I could easily see paying $100 for this. Double that though and it would have to, at least for me, be a far more refined product.
Keep it up Liberty!
Featured image, Damon Hill in the Wlliams in '95 at Silverstone. Photo by author on a Canon AE-1(!) scanned from negative.